Involuntary treatment in mental health care
Involuntary treatment is compulsory assessment or treatment of people in mental health services without the person's consent being given. This is a restrictive practice and can be legally approved under certain conditions.
This page shows data on involuntary treatment in Australian public mental health services. Service settings include community (day) services, residential (overnight) services, and hospital services.
Key points
Involuntary treatment is used in Australian mental health services for roughly:
15% of community care contacts
17% of residential care episodes
45% of hospitalisations in acute units
30% of hospitalisations in non-acute units
In Australia:
Involuntary treatment requires approval under each state and territory mental health-related legislation.
People in involuntary care report less positive experience of care than people under voluntary treatment.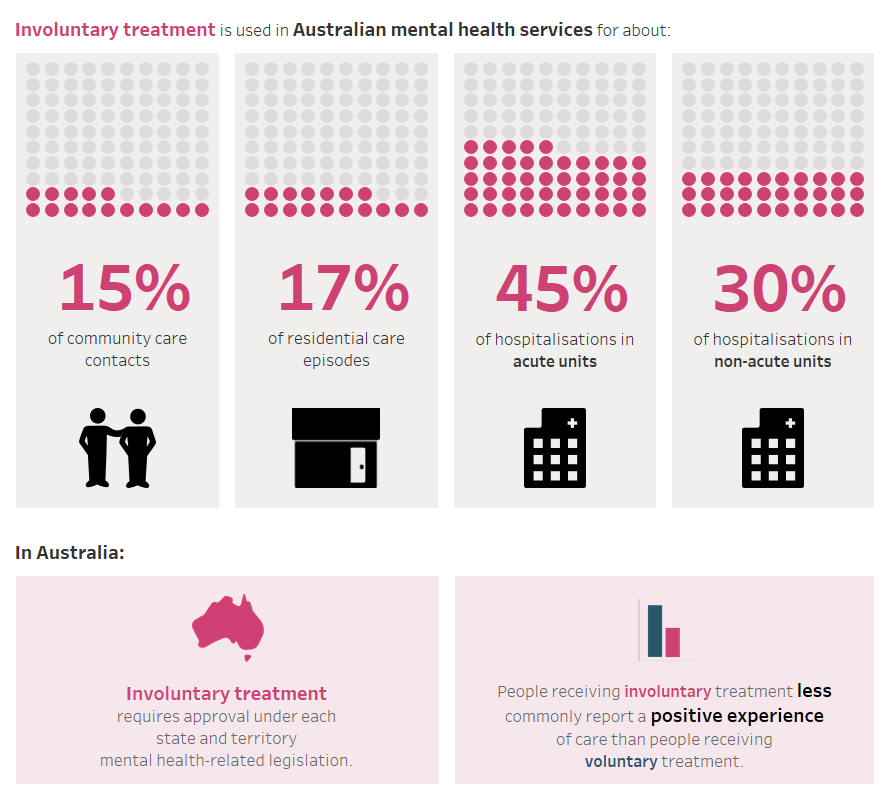 Where do I go for more information?
Many people improve clinically after care in public mental health services. Improvement is seen after about 72% of hospital care episodes and 51% of community care episodes according to clinician-rated measures (Gee et al. 2022). More information is in the Consumer outcomes report.
If the information presented raises any issues for you, these resources can help:
Notes to interpret the data
Key concepts

Key concept

Description

Hospital mental health care refers to a specialised mental health unit in a hospital or psychiatric hospital, which are staffed by health professionals with specialist mental health qualifications and/or training and have as their principal function the treatment and care of patients affected by mental illness.

There are two types of hospital mental health care. Acute care hospital programs involve short‑term treatment for individuals with acute episodes of a mental disorder, characterised by recent onset of severe clinical symptoms that have the potential for prolonged dysfunction or risk to self and/or others. Other or non‑acute care refers to all other admitted patient programs, including rehabilitation and extended care services (METEOR identifier 288889).

Community mental health care refers to government‑funded and operated specialised mental health care provided by community mental health care services and hospital‑based ambulatory care services, such as outpatient and day clinics.

Episodes of residential care are defined as a period of care between the start of residential care (either through the formal start of the residential stay or the start of a new reference period (that is, 1 July)) and the end of residential care (either through the formal end of residential care, commencement of leave intended to be greater than 7 days, or the end of the reference period (that is, 30 June)). An individual can have one or more episodes of care during the reference period.

Hospitalisation is the term used to refer to the episode of admitted patient care, which can be a total hospital stay (from admission to discharge, transfer or death) or a portion of a hospital stay beginning or ending in a change of type of care (for example, from acute care to rehabilitation).

Mental health legal status is defined as whether a person is treated on an involuntary basis under the relevant state or territory mental health legislation, at any time during an episode of admitted patient care, an episode of residential care or treatment of a patient/client by a community based service during a reporting period (METEOR identifier 722675).

Patient day means the occupancy of a hospital bed (or chair in the case of some same day patients) by an admitted patient for all or part of a day. The length of stay for an overnight patient is calculated by subtracting the date the patient was admitted from the date of separation and deducting days the patient was on leave. A same-day patient is allocated a length of stay of 1 day.

Patient day statistics can be used to provide information on hospital activity that, unlike separation statistics, account for differences in length of stay. The patient day data presented in this report include days within hospital stays that occurred before 1 July provided that the separation from hospital occurred during the relevant reporting period (that is, the financial year period). This has little or no impact in private and public acute hospitals, where separations are relatively brief, the amount of information delivered is relatively high and the patient days that occurred in the previous year are expected to be approximately balanced by the patient days not included in the counts because they are associated with patients yet to separate from the hospital and therefore yet to be reported. However, some public psychiatric hospitals provide very long stays for a small number of patients and, as a result, would have comparatively large numbers of patient days recorded that occurred before the relevant reporting period and may not be balanced by patient days associated with patients yet to separate from the hospital.

The principal diagnosis reported for patients who have a community mental health care service contact, or an episode of residential mental health care is based on the broad categories listed in the Mental and behavioural disorders chapter (Chapter 5) of the International Statistical Classification of Diseases and Related Health Problems, 10th revision, Australian Modification (ICD-10-AM 11th edition). Further information can be found in the Health-related classifications section.

Publicly funded or managed services with a primary function to provide treatment, rehabilitation or community health support targeted towards people with a mental disorder or psychiatric disability. These activities are delivered from a service or facility that is readily identifiable as both specialised and serving a mental health care function.

Residential mental health care refers to residential care provided by residential mental health services. A residential mental health service is a specialised mental health service that:

employs mental health trained staff on‑site
provides rehabilitation, treatment or extended care to residents for whom the care is intended to be on an overnight basis and in a domestic‑like environment
encourages the residents to take responsibility for their daily living activities.

These services include those that employ mental health trained staff on-site 24 hours per day and other services with less intensive staffing. However, all these services employ on‑site mental health trained staff for some part of the day.

Service contacts are defined as the provision of a clinically significant service by a specialised mental health service provider for patients/clients, other than those admitted to psychiatric hospitals or designated psychiatric units in acute care hospitals and residents in 24‑hour staffed specialised residential mental health services, where the nature of the service would normally warrant a dated entry in the clinical record of the patient/client in question. Any patient can have one or more service contacts over the relevant financial year period. Service contacts are not restricted to face‑to‑face communication and can include telephone, video link or other forms of direct communication. Service contacts can also be either with the patient or with a third party, such as a carer or family member, other professional or mental health worker, or other service provider.
Data coverage is ten years to 2020–21 for community and residential care and 2019–20 to 2020–21 for hospital care. This section was last updated in April 2023.