Case study background and cohort
Refugees and humanitarian entrants from Afghanistan are one of the largest refugee populations in the world (UNHCR 2023). For over four decades Afghanistan has experienced instability due to conflict, natural disasters, chronic poverty and political unrest. Many Afghans have been forced to flee their country due to persecution because of their ethnicity, religion or gender, or due to untenable living conditions as a result of war, poverty and starvation (UNHCR 2023). Afghanistan is an ethnically diverse country and includes different ethnic groups: Pashtun, Tajik, Hazara, Uzbek, Aimaq, Turkmen, Baloch and other groups (WorldAtlas 2019).
Afghanistan has consistently been one of the top countries of origin from which people are granted humanitarian visas over the last 5 years (Home Affairs 2021).
As one of the largest refugee populations in Australia, it is important to understand the patterns of health outcomes and health service use in the Afghan refugee population. Due to the protracted nature of the humanitarian crisis in Afghanistan, refugees may have a history of traumatic experiences and potentially long periods with limited access to health care which can impact their experiences with the health care system once they arrive in Australia.
This case study presents data on health service use, medication dispensing and self-reported long-term health conditions in 2021 for around 21,000 offshore humanitarian entrants born in Afghanistan that arrived in Australia in 2000–2020 (hereon referred to as Afghan humanitarian entrants). Data are also presented on deaths that occurred between 2007 and 2020.
This case study cohort does not include humanitarian entrants who may identify culturally as an Afghan but were not born in Afghanistan, migrants who arrive on another visa (for example family or skilled) but have a refugee-like background or migrants who were evacuated from Afghanistan in 2021. For more information on the visa subtypes included and excluded from this cohort see Humanitarian entrant and comparison cohorts.
This case study provides insights on the health outcomes and health service use of the Afghan humanitarian entrant population. Findings from this report can inform the development of policies and settlement services to support Afghan humanitarian entrants and support the evaluation of programs to improve the broader health outcomes of this population group. This is particularly useful given the commitment of the Australian Government to allocate 26,500 dedicated visa places for Afghans to migrate to Australia under the offshore Humanitarian Program through to 2026.
In this case study, 47% of Afghan born humanitarian entrants were males and 53% were females. The largest age group in males and females is 20–29 (Figure 6.1).
Figure 6.1: Afghan humanitarian entrants included in the case study cohort by age and sex
There was a larger number of females than males in the age groups from 40 to 79.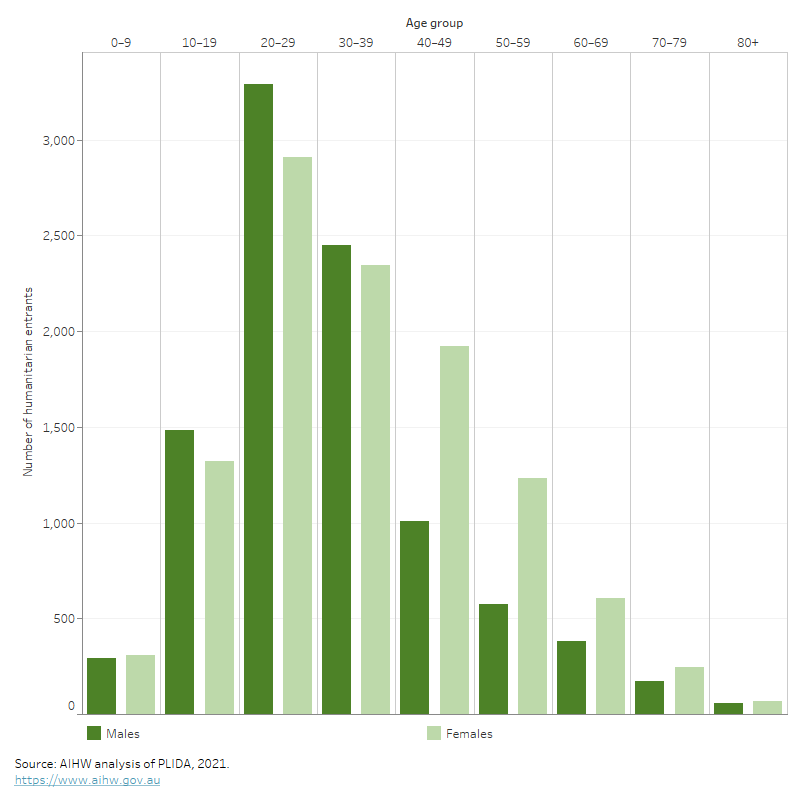 The number of Afghan humanitarian entrants arriving in Australia each year varied across the 20-year study period (Figure 6.2). Of the Afghan humanitarian entrants, 24% arrived between 2016–2020, 32% arrived between 2011–2015 and 44% arrived between 2000–2010.
Figure 6.2: Year of arrival of Afghan humanitarian entrants in the case study cohort
There was the largest number of arrivals in 2013, followed by 2014 and then 2006.