Treatment and management of epilepsy
Pharmaceuticals
Around two-thirds of people with epilepsy in Australia can control their seizures with anti-epileptic drugs (Perucca et al. 2018). Anti-epileptic drugs generally work by inhibiting neural activity, and the medication prescribed is based on the characteristics of each person (for example, the type of seizures, age, sex and side effects). Due to the wide range of mechanisms by which anti-epileptic drugs work on brain activity, many are also used for other purposes and so the data presented below may not relate solely to the treatment of epilepsy. For example, carbamazepine, a common first line treatment for epilepsy, is also used as a treatment for nerve pain in trigeminal and glossopharyngeal neuralgia (TGA, 2019). Others are prescribed as mood stabilisers (e.g. sodium valproate) and as tranquilisers (e.g. diazepam).
In 2019-20, there were many antiepileptic drugs available for prescription under the Pharmaceutical Benefits Scheme (PBS) in Australia (Table 4.1). People may be prescribed one drug only, or may be prescribed additional supplementary drugs to help control seizures more effectively. These medications may be from a single medication type, or from multiple different therapeutic groups.
Figure 4.1: Antiepileptic prescriptions dispensed in 2019–20
This is a horizontal bar chart that displays antiepileptic medication prescriptions dispensed under the Pharmaceutical Benefit Scheme, by number of scripts and by percentage of total antiepileptic medication prescriptions in 2019–20.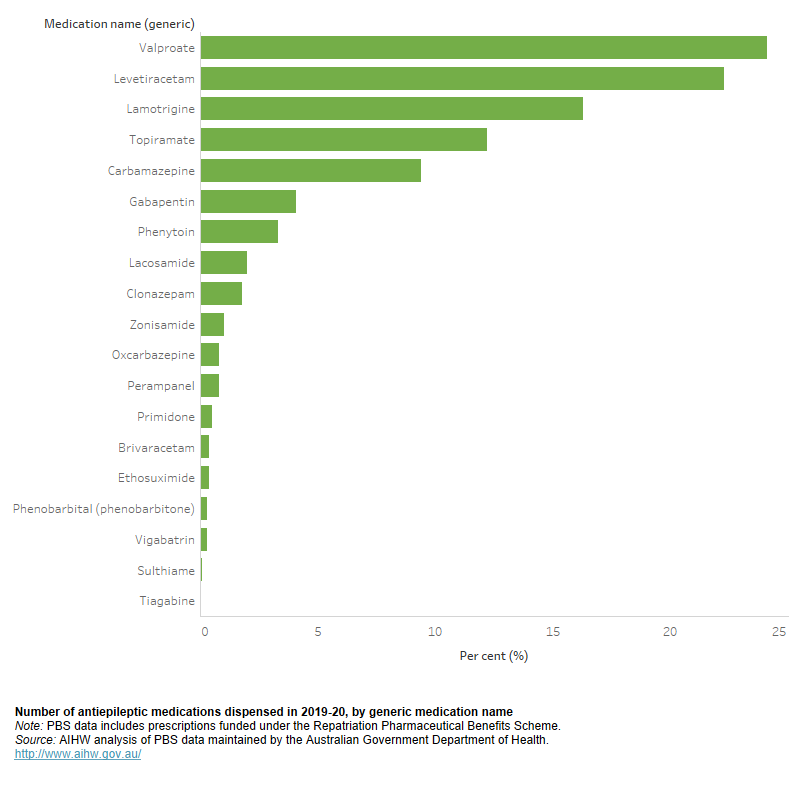 In 2019–20 there were 3.1 million prescriptions dispensed for antiepileptic medications. Valproate was the most commonly dispensed antiepileptic medication (24% of all antiepileptic prescriptions filled), followed by Levetiracetam (22%) (Figure 4.1). Around 388,000 people were dispensed at least one antiepileptic medication during 2019–20, with an average of 8 prescriptions dispensed per person.
In May 2021, cannabidiol was made available through the PBS for patients with severe myoclonic epilepsy in infancy (SMEI), also known as Dravet Syndrome. Cannabidiol can only be prescribed in the first instance by a treating neurologist, and must only be prescribed as an adjunctive therapy once the condition has proven to be poorly controlled by at least two epilepsy medications. The data presented here do not cover the period of availability of cannabidiol, but the use of this recently listed product can be explored in future.
Surgical
For seizures that cannot be controlled through medications, surgical options can be investigated. Surgery can reduce the amount of seizures for some people with epilepsy and can stop seizures for others, and may involve extensive rehabilitation depending on the nature of the surgery. There are only certain types of epilepsy that are suitable for surgery, and eligibility for surgery is based on medical investigations. Epilepsy procedure codes using the Australian Classification of Health Interventions (ACHI) are listed in Table 4.2.
Table 4.2: ICD-10AM ACHI codes for procedures relating to treating epilepsy
Primary surgical treatments for intractable epilepsy

| ACHI code | Description |
| --- | --- |
| 40700 | Corpus callosotomy |
| 40701 | Vagus nerve stimulation, stimulator placement |
| 40702 | Vagus nerve stimulation, stimulator repositioning or removal |
| 40703 | Corticectomy, topectomy or partial lobotomy |
| 40704 | Vagus nerve stimulation, placement of lead |
| 40705 | Vagus nerve stimulation, repositioning or removal of lead |
| 40706 | Hemispherectomy |
| 40707 | Vagus nerve stimulation, electrical analysis and programming of device |
| 40708 | Vagus nerve stimulation, replacement of battery in stimulator |
| 40709 | Intracranial electrode placement by burr hole |
| 40712 | Intracranial electrode placement by craniotomy |
Secondary surgical treatments for intractable epilepsy (primary purpose pain relief)

| ACHI code | Description |
| --- | --- |
| 39131 | Adjustment of epidural electrodes |
| 39134 | Insertion of subcutaneously implanted neurostimulator |
| 39136 | Removal of epidural electrodes |
| 39137 | Replacement of epidural electrodes |
| 39138 | Adjustment of other peripheral nerve electrodes |
Source: ICD-10AM 11th Edition and MBS Online
In 2018–19, there were 317 epilepsy-related primary procedures provided in hospital to patients with a principal and/or additional diagnosis of epilepsy.
In 2018–19, 135 epilepsy-related secondary procedures were provided in hospital to patients with a principal and/or additional diagnosis of epilepsy. The main purpose of these secondary procedures is pain relief, but they are also used as surgical treatments for epilepsy.
Management
Aside from pharmaceuticals and surgery treatment options, medical and allied healthcare professionals may also provide support to those living with epilepsy. There are many healthcare professionals who specialise in epilepsy, and can provide management support to affected people. These include:
Neurologists: Neurology is a branch of medicine focussed on disorders of the nervous system. A neurologist can treat a number of disorders that affect the brain, spinal cord and nerves, including epilepsy.
Epileptologists (a type of neurologist): An epileptologist may become involved if epilepsy diagnosis, treatment and/or seizures are complex.
Other healthcare and allied health professionals can also provide support in epilepsy management. These may include:
Nurses
Social Workers
Speech and language therapists
Occupational therapists
Psychiatrists
Neuropsychiatrists
Psychologists
Radiologists
Physiotherapists (Epilepsy Foundation 2019).
Seizure type, severity and response to medication vary between people living with epilepsy. As such, epilepsy management plans also vary. These plans may include any of the above professionals, or may include additional sources of management support.
References
Epilepsy Foundation 2019. Epilepsy Specialists. Viewed 30 June 2021, Epilepsy Specialists | Epilepsy Foundation.
Perucca P, Scheffer IE & Kiley M 2018. The management of epilepsy in children and adults. Medical Journal of Australia, 208(5), 226-233.
TGA (Therapeutic Goods Administration) 2019. Carbamazepine. Viewed 11 August 2021.