Bulk-billing for non-referred (GP) attendances
Definition: Proportion of non-referred attendances that were bulk-billed based on Medicare Benefits Scheme services. This includes GP, vocationally registered GP, enhanced primary care and other non-referred services, but excludes practice nurse items. Presented as a percentage of total annual GP attendances per financial year.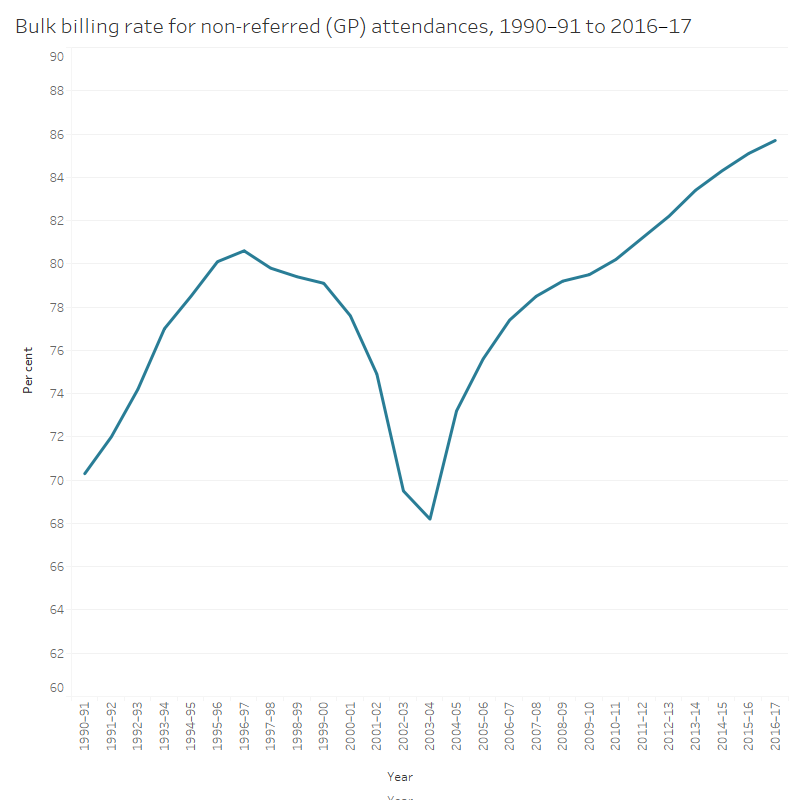 Source: Department of Health 2017a; Table S1.4.34.
More than 148.7 million non-referred (GP) attendances were claimed through Medicare in 2016–17 and 127.5 million (86%) of these services were bulk-billed.
Bulk-billing rates for non-referred (GP) attendances have changed over time, decreasing from 1996–97 to 2003–04, and increasing each year from 2003–04 to the 2016–17 high of 86%.
Since 1990–91, the lowest bulk-billing rate was recorded in 2003–04 (68%).
In 2016–17, the bulk-billing rate was highest in Very remote areas (89%) and lowest in Inner regional areas (83%).